Visit our Featured Property
Scott Lakes Properties
8 SCOTT LAKES RENTALS (5-7 bdr)
Chicago 2.5 hours - Detroit 3 hours
15 min. to South Haven and Saugatuck
On-site canoeing, boating and fishing
Near Upper and Lower Scott Lakes
Private decks, grills, fire pits, docks
Cabins on Michigan Snowmobile Trails
---
Michigan snowmobile trails and cozy cabins
Michigan snowmobile trails are some of the best in the nation. The Snow Belt in Michigan produces almost 180 inches of dependable snow every year. That is a dream come true for ideal Michigan snowmobile trail conditions. The Bergland to Sidnaw Route is a terrific snowmobile trail in the Upper Peninsula of Michigan. This 43 mile trail is a very scenic and gently rolling trail that traverses east and west parallel to the very beautiful M-28 through 5 different bridges worth exploring. Another popular trail is the 62 miles North Central State Trail that begins and ends in charming small tourist towns. Ride the trail all the way to Lake Huron! Once you see Lake Huron, turn and get on the North Eastern State Trail in Cheboygan that meanders through scenic towns in Presque Isle County.


Check our our growing selection of MI cabins on snowmobile trails:
24 vacation rental(s) found...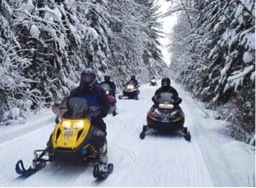 Map of Michigan Snowmobile Trails
Map of North Central State Trail (pdf)