Visit our Featured Property
Spider Lake Cottage
2 cottages on Spider Lake
Large groups, 2 beaches, 2 docks
15 minutes from Traverse City
Pet friendly, WIFI, hot tubs
Kayaks, free rowboat
3rd cottage on Leelanau Peninsula
Community is in our nature
---
Community support: Fishing Has No Boundaries.
RentMichiganCabins.com is a proud sponsor of Fishing Has No Boundaries. They are rooted in Wisconsin, but have now expanded their cause to 11+ states, including Michigan. FHNB are a non-profit 501-C3 organization whose goal is to open up the great outdoors for people with disabilities through the world of fishing.
"We believe through education, training, and the use of adaptive angling equipment, everyone is able to share in a dream come true."
We encourage you to check out their website and consider making a contribution yourself.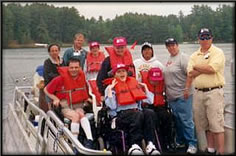 RentMichiganCabins.com is recognized In The News

Enjoy Michigan's Fall Season Posted on October 14 2016
New vacation rental options Ed Perkins on Travel April 3, 2017 - Tribune Content Agency
Featured in BizWire. JM Creative Group rolls out 6 state-specific, book direct vacation rental websites and tops 3 million page views. Plans for a minimum of 21 state websites.
Webcology podcast Mogensen, Founder of JM Creative Group talks about his first website RentWisconsinCabins.com. The company now has 7 regional websites including RentMichiganCabins.com
Wisconsin State Journal/Business: Featured Article. Sites that connect cabins with customers continues to grow.
Looking to compare vacation rentals outside of Michigan?
Check out our growing collection of state-specific, book direct vacation rental websites:

RentMinnesotaCabins.com Including Brainerd, Alexandria and Minnesota Lakes rentals.
RentWisconsinCabins.com Nearly 700 Wisconsin vacation rentals on one website.
RentNewYorkCabins.com Compare vacation rentals in Lake George, Finger Lakes, Adirondacks, Upstate and more.
RentMontanaCabins.com Plan and book directly with Montana rental owners or managers.
RentTennesseeCabins.com Book directly with Tennessee cabin owners and get the lowest price online.